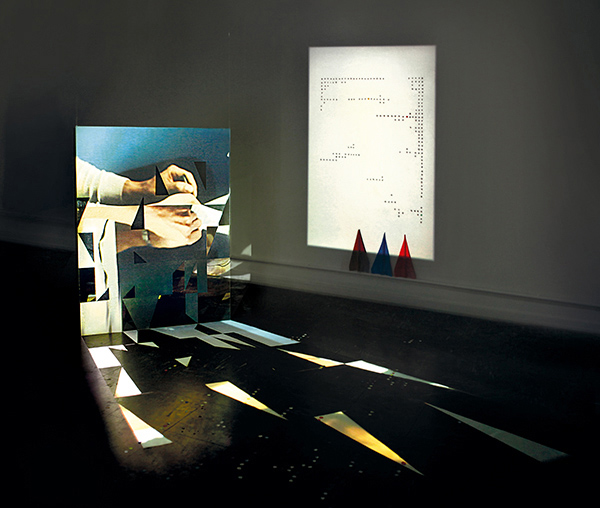 Suko
2013, HD-Projektionen, Acrylglas, Projektionsfolie, Papier, Wandöffnungen, Acrylfarbe / Video projections, acryl glass, projection foil, paper, carved out wall opening, acrylic paint, 183 x 265 x 252 cm
Formen, Farben und Videoinhalte basieren auf Licht- und Formstudien im Straßbourger Münster. Das dort vorgefundene natürliche Licht im Innenraum wird dem künstlichen, vom Videoprojektor Erzeugten gegenüber gestellt. Ein Spiel mit Licht entsteht, welches die Möglichkeiten seiner Darstellung in der Kunst hinterfragt.
Forms, colors and video content are based on lightstudies in the Straßbourg Cathedral. The daylight inside the Cathedral is opposed to the artificial light generated by the video projector. A game with light arises, reflecting the opportunities of his presentability in the field of art.
– realisiert im Rahmen der "Résidences d'artistes croisées" mit der Unterstützung der Stadt Strasbourg und des Kunstvereins CEAAC, Strasbourg
realized as part of the "Résidences d'artistes croisées" with  the support of the City of Strasbourg an of the CEAAC –