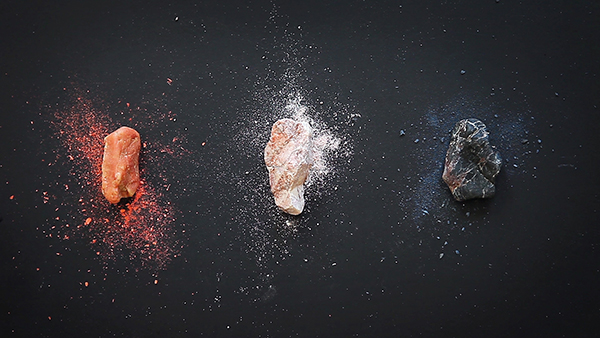 diversity of stars
2015, HD-video, audio, 1:48 min, loop
 When it comes to galaxies, diversity is everywhere.*
Drei verschiedenfarbige Steine erinnern an Meteorgestein, das durch den Kosmos gleitet. Sie werden so über die Bildfläche bewegt, dass ein Stein immer den Platz eines anderen einnimmt. Durch Pigmentstaub des jeweils entsprechenden Farbtons werden ihre Bewegungsspuren aufgezeichnet. Diese verweben sich zu einer Zeichnung auf der Bildfläche, in der eine Vielfalt neuer Mischtöne entsteht. Jeder Stein behält jedoch seine Ursprungsfarbe.
Der Aspekt, dass durch Mischung bestimmter Substanzen Neues entsteht, ist nicht nur im Bereich der Astromineralogie zu finden. In der Soziologie wird davon ausgegangen, dass aus dem gleichberechtigten Zusammenleben und der daraus resultierenden Vermischung von unterschiedlichen religiösen, kulturellen und anderen Gruppen Diversität entsteht. Eine Vielfalt, die als Quelle des Austausches, der Erneuerung und der Kreativität gilt.
Three different coloured stones look like meteors soaring through space. They are moved across the screen so that one stone always takes the place of another. The different coloured dust they leave behind shows where each has been. These colours entwine against the background to form a drawing made up of a myriad of new colour blends, with each stone still retaining its original colour.
The aspect of something new being created by mixing together certain substances is not only found in the field of astromineralogy; sociology also theorises that diversity comes from living together as equals, and the resulting blend of different religious, cultural and other groups. A diversity which is seen as a basis for knowledge exchange, revitalisation and creativity.
* heic0819 – Science Release / ESA Web Portal / 2008