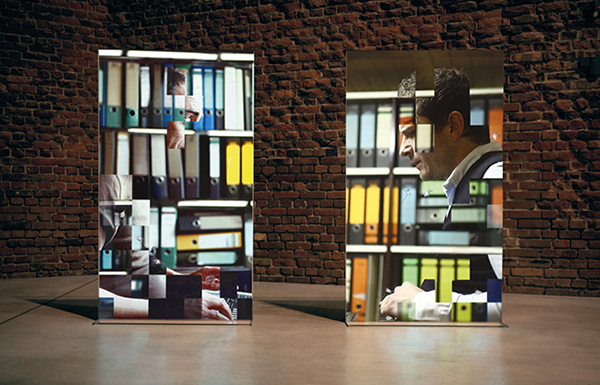 Schiffeversenken / battleship
2011  –  HD-Videoinstallation, Audio / hd-video installation, audio, 173 x 250 x 2 cm
–
Schiffeversenken handelt vom Ringen des Menschen in der digitalen Welt sichtbar zu werden und zu bleiben. In einer Videoprojektion sind zwei Spielgegner zu sehen, die am Computer "Schiffe versenken" spielen. Deren Spielverlauf wird auf der Bildoberfläche des Videos sichtbar: Wenn ein Treffer erzielt wird, entsteht eine Einschussstelle im gegnerischem Bild. Bei einem Fehlschuss wiederum wird der Mitspieler an der genannten Koordinatenstelle unsichtbar, bzw. tritt erneut in Erscheinung. Die Beiden spielen somit, um die visuelle Präsenz in einer virtuellen Welt.
–
Battleship is about the struggle of people in the digital world to become and remain visible. In a video projection, two opponents can be seen playing "Battleship" on a computer. Their game play can be viewed on the image surface of the video: when a hit is made, a point of entry appears in the image of the enemy. In the case of a miss, on the other hand, the fellow player disappears from the specified position, or re-appears respectively. Consequently, both players compete for a visual existence in a virtual world.